Seeing as I'm not doing anything for New Years Eve tonight (I have to be up at 6am for an away trip to Manchester City!) I thought I'd write a bit about my year.
As some of you might know, my dad passed away in November 2013, two years after my mam passed away, so although the start of the year was pretty tough, I'd like to think my dad had a hand in how brilliant 2014 has been.
2014 was my 10th year supporting Sunderland, and was by far the best!
We went into January bottom of the league, having been bottom at Christmas, and only one team had survived relegation before after being bottom at Christmas, but as D:Ream, and the adopted Sunderland chant would say, things can only get better!
In December, we'd beaten Chelsea 2-1 in the Capital One Cup, meaning in January we faced Manchester United in the semi finals. The semi finals! Even just reaching that was an achievement given how bad our league form had been. The first leg was at home on a cold Tuesday night, where we won 2-1, thanks to an own goal from Ryan Giggs, and a Fabio Borini penalty.
The away leg was on January 22, and has to be one of the most stressful and draining football games I have ever been to! Ex Sunderland player Jonny Evans started the scoring, bringing it to 2-2 on aggregate, until former Manchester United player Phil Bardsley scored deep into the second half of extra time, 1-1 on the night, and Sunderland through 2-3 on aggregate. However, being Sunderland, we don't do things the easy way, and Javier Hernandez scored in the dying seconds. 3-3. I thought that was the game over, I'd totally lost track through all the drama, and thought United had won in until one of my friends pointed out it was penalties. I only have bad memories of Sunderland and penalty shoot outs, so I was dreading it, but after some heroics from Vito Mannone, Sunderland won 1-2 on penalties, and were off to WEMBLEY! 9,000 Sunderland fans going absolutely crazy at Old Trafford! We booked our trains and hotel on the way home, and I literally didn't stop grinning the whole journey!
February 1, and an away trip to St James' Park for the second Tyne Wear derby of the season. We went into this game having won the previous two derbies, the one at St James' we'd won 0-3, and was the first time I'd seen Sunderland win there. Amazingly, once again despite how poor we'd been doing in the league, we managed to win 0-3! Three in a row! Of course this was the game that caused mass riots throughout Newcastle City Centre, including the unforgettable scenes of a man punching a horse – poor Bud!
March brought one of the best weekends of my life. A trip to London and Wembley. We had decided to go down on the Saturday, and come home on the Monday. We were staying in an apartment in Greenwich, with amazing views over London.
This slideshow requires JavaScript.
On the Saturday night, we knew there was going to be a party in Covent Garden, so we headed down and it was crazy! A few thousand Sunderland fans singing in the streets, tourists had no idea what was happening, we met up with one of my friends, George, and we were having a few drinks with him and a few other North East journalists when former Sunderland player, chairman, caretaker manager and general legend Niall Quinn turned up. George is good friends with Niall, so we were lucky enough to be invited up to the flat above the pub where Niall was, and we were able to stay and chat with him and his family for a good few hours. He even insisted I had a couple of glasses of champagne, even though I was already a little bit tipsy! It was a pretty amazing night, one I definitely won't forget!
Sunday we headed to Wembley, with a mixture of nerves and excitement. I was lucky enough to have visited Wembley before with my dad, and England game against Germany, which Germany won 2-1, but I couldn't help feeling sad that my dad wasn't there with me. He'd seen Sunderland at the old Wembley a few times, but never at the new Wembley, and I'd never seen us there.
This slideshow requires JavaScript.
The atmosphere was incredible, 30,000 Sunderland fans singing their hearts out. Even thinking about it now it gives me goosebumps! Fabio Borini scored the first goal of the game in the 11th minute, and the place went wild! I watch a lot of games of football, and not many fans go as crazy as ours do when we score, you end up hugging random strangers! I always end up with a lot of bruises caused my celebrations!
Unfortunately we went on to lose 3-1, which I don't think reflected the game, but nevertheless, I was incredibly proud to support Sunderland that day, even though I was a little heartbroken. Maybe one day we'll get back there again.
This slideshow requires JavaScript.
The game after the cup final, we had the chance to book a spot at Wembley again for the FA Cup semi finals, but a very disappointing game at Hull and a 3-0 defeat left us with the league to concentrate on.
At the end of March, it still looked very likely that we'd be getting relegated, with 8 games left, against teams like Chelsea, Manchester City and Manchester United. Staying up seemed impossible.
However, something changed mid-April, a 2-2 draw with Manchester City away, where victory was snatched away from us with a couple of minutes remaining when the ball rolled under Vito Mannone. A tough trip to Stamford Bridge followed, Jose Mourinho's Chelsea, who had never lost a game at home.
This slideshow requires JavaScript.
Incredibly we managed to win 1-2, with a Fabio Borini penalty ending Jose Mourinho's 78 game unbeaten run.
We won our next game 4-0 against Cardiff, and climbed out of the relegation zone, albeit on goal difference alone.
May, three games left, starting with an away trip to Manchester United, where a Seb Larsson goal ensured our first league win at Old Trafford since 1968, and left us three points clear of the relegation zone. We followed this up with a 2-0 victory at home to West Brom, and secured safety. Unfortunately we lost the last game of the season, but thankfully it didn't matter. Gus Poyet had pulled off the great escape!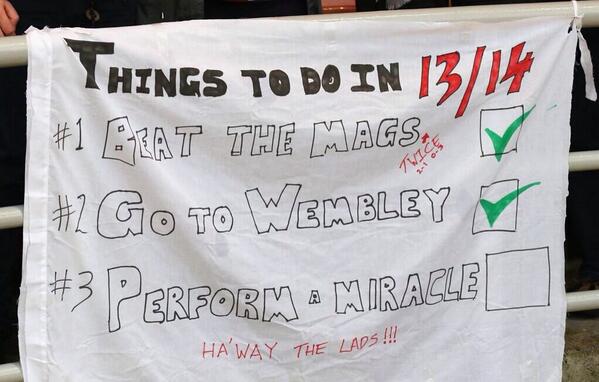 Miracles happen, Gus!
This season hasn't been quite as exciting yet, but Adam Johnson gave all us Sunderland supporters the best Christmas present when he scored in the dying minutes at St James' Park to take our derby victories to four in a row!
Thank you Sunderland for giving me a fantastic 2014!
Happy New Year everyone!
Lyndsey 🙂